Reasons for Conducting Air Sampling For Fungal Spores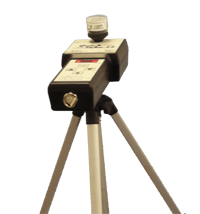 Sampling for airborne fungal spores may be conducted for a number of reasons including assessing the air quality, detection of pathogenic organisms, epidemiological surveys and predictions, detection of mycotoxin producing fungi, or detection and measurement of exposure to allergenic fungi and actinomycetes. Before sampling for airborne fungal spores it's important to have a clear objective and the data that would meet that objective. Some of these objectives require counting and identification of the airborne fungal particulates. A well calibrated pump is therefore required. The method of sampling, the equipment and the media are determined by the data required. For example if one is interested in species identification, then they would collect culturable air samples using an Andersen or RCS sampler.
Methods for Sampling for Airborne Fungal Spores
Culturable Air Samples
If the air was sampled by impaction onto a growth media, then the samples are first incubated at suitable temperature followed by counting and identification of resulting colonies (if any). A number of factors may affect the reliability of the colony counts data. These include the suitability of the agar media used for sampling, colony density, and presence of fast growing isolates. Some agar media are highly selective and therefore would not suitable when the objective was to determine the diversity of fungal species in the air. If the colony density is very high, then counting becomes difficult. In the presence of fast growing isolates, slow growing isolates are masked and hence difficult to count.
Non-culturable Air Samples
The second method of air sampling is where the air is impacted on inert medium, usually a filter membrane or adhesive-coated slide. The collection medium is then analyzed by transmitted light microscopy (popularly known as direct microscopic examination), typically at 600–1000 × magnification. A number of different collection devices may be used for spore trap sampling of which the most common are slit or circular impactors such as the Air-O-Cell®, Allergenco D, Micro 5, Cyclex D and other similar cassettes. Mixed cellulose ester membrane (MCEM) filters are also occasionally used.
Choose Your Spore Trap Analytical Labs Wisely
Identification of airborne fungal spores to species can only be accomplished by an experienced mycologist. Similarly, spore trap analysis requires considerable skill and experience on the part of the analyst to identify spores accurately, and to differentiate them from other airborne particulate. In most cases identification of airborne fungal spores by direct microscopic examination is limited to genus. In some cases identification of spores to specific genus is difficult. A good spore trap analyst requires several years of experience. A recent multi-laboratory comparative study of spore trap analyses found that only 75% of commercial accredited labs could consistently identify correctly Cladosporium spores and only 50% could identify Aspergillus/Penicillium-like spores consistently. The level of experience required for species identification or spore trap analysis cannot be attained in a short time, and it cannot easily be acquired by individuals lacking advanced training in mycology or plant pathology.
Mold & Bacteria Consulting Laboratories is accredited by CALA to the Internationally recognized ISO/IEC 17025:2005.