Why is Bacteria Testing and Investigation Important?
MBS provides bacteria testing and investigation services. Although the most frequently occurring environmental bacteria are those generally considered as non-pathogenic, majority of homes and workplaces are contaminated with species of enterobacteria and pseudomonads, many of which are potentially pathogenic. Other potential pathogens included Staph. aureus, Streptococcus species and B. cereus.
Bacterial contamination is more serious in some industries such as healthcare or food preparation. Failures in hygiene in these environments can potentially lead to food poisoning or disease outbreaks which can be devastating and costly. However, bacterial contamination should not be allowed to occur in any occupied spaces. We are often asked to explain how bacteria are transferred within an environment, how long they can survive and, most importantly, how they can be managed. MBS bacteriologists can help you understand the impact of bacteria on your facility and how to minimize the risk.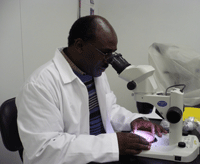 There are many different types of bacteria in the environment. Our bacteriologists offer bacteria testing and investigation services to help you understand the level of bacteria contamination and the types present in your facilities and how they can be managed. Most of the bacteria are harmless but some are a health hazard and can pose serious health threats. Common examples of such bacteria are certain strains of E. coli and Streptococcus. These types of bacteria are often associated with black water or sewage events.
How MBS Can Help You
MBS offers a unique microbial sampling and analysis service to help organisations check levels of bacteria and other microbes in a specific environment whether this be a cafe, a chain of retail outlets, a hospital or a factory. If levels of microbes are acceptable then you get peace of mind, or if problems are found, then it will enable you to take any pre-emptive, corrective action.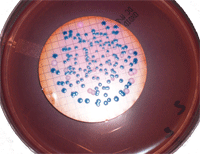 How does it work?
Laboratory Testing for Bacteria Samples
Samples for bacteria testing and identification are sent to Mold & Bacteria Consulting Laboratories (MBL).
MBL is a service oriented microbiology laboratory. The lab was established in 2004 to help meet the needs of various industries that are affected by microorganisms such as bacteria and molds. Therefore, much of our work is currently comprised of identification of bacteria and molds from various environments such as hospitals, schools, homes, offices and other work environments.
Do it Yourself Bacteria Sampling
If you wish to collect your own samples, MBS will supply you with the necessary sampling supplies and instructions on how to take appropriate samples from the environment. You will then send the samples to MBL for testing. Results are summarised in a report that will be presented to you confidentially. Where requested, we can also offer suggestions on any necessary corrective actions.
Why Bacteria Analysis Is Important
Helps to assess the level of hygiene
Helps to identify any specific areas / sources of contamination
Helps to assess the effectiveness of cleaning and disinfection processes
Helps to identify gaps in cleaning procedures
Helps to assess the impact of changes in the business (new staff, procedures, equipment, etc)
Helps to prove due diligence.